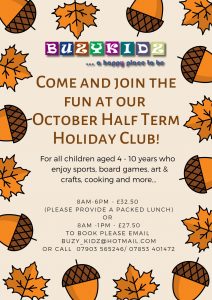 Our holiday club provides a fun environment for your child during the school holidays while you're at work – even if you're at home they can offer a break for you and your children too!

Attending the holiday club will allow your child will have the opportunity to meet and form new friendships with similar aged local children. Holiday play-schemes can be a great way for children to discover new interests and explore new activities and can be a great energy-burner. You can pre-book for the days that suit you, from just one or two days to whole weeks.
A number of play-schemes are held during the year:
* Half-Term
* Easter
* Summer
Contact us to find out more about when they are available.